Enjoy a day of learning and collaborating!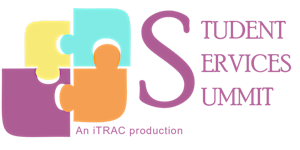 "I attended this 1 day conference last year and truly learned so much about building better support networks for all students with a focus on how to better understand, retain, and support the post-traditional student. I am looking forward to attending this years conference as well! I hope that some of you will take a minute to look over the agenda and sing up to attend!"
Event Details
Holistic Student Support:  Collaborative and Focused 
Registration is now open!
Advising, Disability, Dual Credit, Financial Aid, Library, Mentoring, Recruitment, Success Coaching, Testing, TRIO, Tutoring
A working retreat for college teams dedicated to:
exploring new and innovative solutions to student services issues
creating opportunities for teams to apply what they have learned when they return to their institution
networking with counterparts from around the state
encouraging open communication among team members 
 

Bringing a Group to the Student Services Summit?

We can register groups of eight or more and send a single invoice!

Email [email protected] for more information!

 

Date
Friday, June 5th

Time
8:30 a.m. - 3:00 p.m.

Schedule

8:30-9:20:  Registration, Breakfast, & Opening
9:30-10:30:  Learning Session Workshops
10:45-11:45:  Learning Session Workshops
11:45-12:30:  Lunch
12:45-1:45:  Learning Session Workshops
2:00-3:00:  Guided Conversations & Team Planning


Location
WSU Tech South Campus
3821 E Harry
Wichita, KS  67218
[email protected]

Cost
$30 per person (breakfast, lunch, and a day of exciting sessions)
 
Come prepared to create/revise your own processes with colleagues
Share this post: